Sometimes cats aren't good communicators. They prefer to keep their thoughts and feelings to themselves, which makes them the mysterious little creatures that they are. But, that doesn't stop their humans from wanting to learn more about them. It just takes more work to get them to "talk" 🙂 These are the typical small talk starters for cat owners....
Meet Nyankichi, a male tabby from the fields of Kagoshima in Kyushu Japan. You'll immediately notice one thing very special about this cat, he...
My grandma and her cat were inseparable - in life and in death. Four hours after my grandma's 15-year-old cat died, my grandma passed away,...
Our pets are some of the most meaningful beings in our lives. They might not be human but cats and dogs have the ability...
This baby loves a conversation with her favorite cat and it's the sweetest and cutest thing you'll see today! Just watch the responses because...
Meet Tihon, the giant Maine Coon cat who wants to cuddle no matter how big he gets! "He likes to sit in my arms...
At times it may not seem like it but cats can care so much, just as we humans do. Our kitties are very in...
Last year, the director of Wild At Heart Rescue, Missy Dubuisson, received a call concerning a kitten who had shown up on a local's...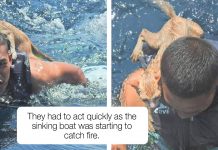 This is an amazing tale of bravery and four kittens lost at sea. A boat engulfed in flames and sinking into the sea was...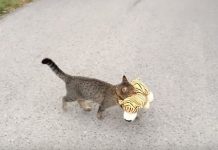 Watch as this cat goes to the neighbors to borrow a tiger plus toy. The cat walks with such confidence after claiming its prize...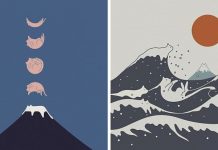 Lim Heng Swee is a self-taught illustrator from Kuala Lumpur, Malaysia and he's obsessed with...you guessed it, cats! The style here is very modern with...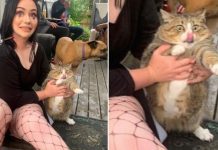 The Unflattering Cat Photo Challenge on Twitter calls on cat owners to share their weirdest and most unphotogenic photos of their cats. Since hoomans...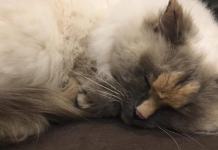 It's not all that rare for animals to have weird markings on their fur and this cat, Daisy, who lives in a shelter in...