You know those pictures of people when they were babies or kids, and then they re-create them as adults? Well, these are the kitty versions. These cats recreate their most valuable kitten memories, as adults, and it's oh so adorable. It's also a little sad, because you see how much they've aged. But, we also see how valuable a cat is in their human's life. And, how their "me, me, me" attitude stays with them for life 🙂
This poor kitty appeared to be stuck and lodged in a rock when he was found, but later they realized that he was just...
After you go through these pictures, you'll ask yourself, "am I part cat"? Because, cats are a little too good at nailing human reactions, and facial expressions? How is it possible that these little non-human creatures react the same way we crazy humans do? Of course, their reactions may not be towards the same situations we would react to, but hey....they still nailed the faces 🙂
You have probably heard the saying that dogs and cats are 'natural enemies'. This heart warming video below will surely prove that this is...
Sometimes our work lives really get to us. They stress us out, upset us, and ruin our balances with our home lives. So many feelings, and that's why they're so hard to describe at times. But, thankfully these cats are able to describe just how we feel with their epic expressions. They understand us to the T. Office/work life really sucks sometimes....
These cats guard and protect a cemetery in Japan, and they're always there to cheer up and support the people who visit their loved ones at the cemetery.
Cowboys herding cats? Yup, you read it right...this is a commercial featuring cowboys herding cats. You won't be able to contain your laughs as you...
People are loving this new trend that adds some "wowza" factor to your cats. Photograph your cats standing behind or inside and empty Abercrombie bag. The result is a cute furry face with a very sexy torso to say the least 🙂 Nothing better than putting things that don't go together, together 🙂 Kitties and muscles, yes please 🙂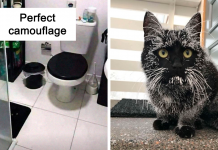 People around the world often believe that black cats bring bad luck but we think they are absolutely purrfect! There are plenty of superstitions...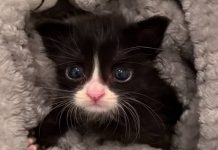 Jess is a kitten foster mom that was asked to care for some kittens that had been dumped in a trash can in a...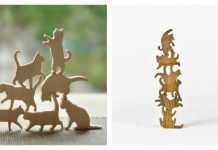 Jenga is no doubt a game that everyone loves. It brings everyone together, it's exciting, and exhilarating. It can't get better than that, right?...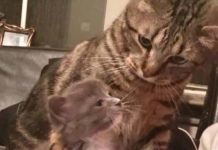 Moonglad Rose, animal rescuer discovered a tiny kitten who was in urgent need of medical attention. She took the kitten to the veterinarian where...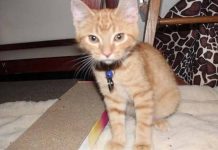 Wisconsin woman Alana Hadley adopted her kitten Ares from a local Door County animal shelter in early 2018. But, alas, something just wasn't right...