This sweet kitty is begging to go outside so that he can play with the neighbors cat. It's the way in which he begs...
Meet Pixie, a beautiful 12 year old Tuxedo cat that lives with her human, Beth Wilson, in the UK. Like all cats, she loves...
We all love our cats, but let's face it: sometimes they can be real jerks with naughty antics. From tearing toilet paper to stealing food, it's clear that these cats don't care about anyone and will continue to trouble their owners. So, what are we to do when our cats do bad things? Well, there's not much you can do. Clean up their messes and snap a photo. After all, the mess won't last, but that picture and memory will. We know that it's hard to stay mad at these lovable cats, so we would like to share with you the evil things they did. After seeing these pics, you will have to admit that at least half of the bad things your cat does are kind of funny. Scroll down to check out!
Looking to spoil your cat? There's no better way than getting your kitty a fun new toy from SUCK UK! SUCK UK creates unique gifts,...
No matter if you are or are not a sushi eater, your heart will want to jump out of your chest after seeing all of these. These are the most perfect little sushi bites ever. With cats in the middle 🙂 What kind of sushi do you want? Perhaps a spring roll, with a side of fuzzy feline 🙂
Polydactyl cats are rare, and extra special. You see, they have extra toes on their paws. So, basically more to love. Sure, they may...
So, you know those videos that are absolutely hilarious when you watch them but afterwards you think "What did I just watch?!" Yes, this...
We love our cats, and they love us. But, are there times when you're just like "ok, maybe they love me a little too much today"? The cuddling sessions have gotten longer, personal space doesn't exist anymore in your house, and every corner you turn, they are there. Maybe sometimes their love for their humans literally has no boundaries!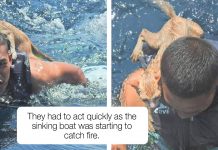 This is an amazing tale of bravery and four kittens lost at sea. A boat engulfed in flames and sinking into the sea was...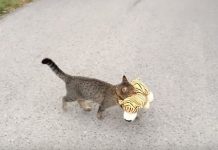 Watch as this cat goes to the neighbors to borrow a tiger plus toy. The cat walks with such confidence after claiming its prize...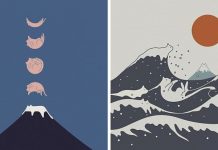 Lim Heng Swee is a self-taught illustrator from Kuala Lumpur, Malaysia and he's obsessed with...you guessed it, cats! The style here is very modern with...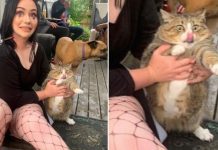 The Unflattering Cat Photo Challenge on Twitter calls on cat owners to share their weirdest and most unphotogenic photos of their cats. Since hoomans...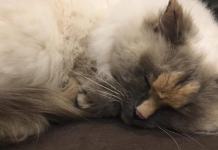 It's not all that rare for animals to have weird markings on their fur and this cat, Daisy, who lives in a shelter in...