Here's an adorable video of a little kitty practicing his hunting skills with a toy mouse. Given the chance, this little guy is going to...
Have you ever went to a store with the clear intentions of exactly what you are buying, but end up with a bunch of...
Watch as two young kitties have a chat and pass the time of day at their local bar. Since they are Irish, their obvious...
Two co-workers found an abandoned cat who was pregnant and decided to share it online. The pair decided something needed to be done so they rescued the kitty, who was rather special because she was a calico with a bobtail.
We all know that cats love to catch their Z's. But, these kitties are taking it to a whole new level. They do everything...
This might possibly be one of the cutest 6-second video clips you will ever see. However imperfect this kitty's pronunciation of the words may actually...
Watch what happens when 50 different dogs go nose to nose with Boomer. Boomer is a Bengal and his human, who has more than 30...
This table is not only decoratively appealing, but also a haven for cats. Your living room will never have looked better, and your cat...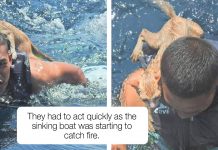 This is an amazing tale of bravery and four kittens lost at sea. A boat engulfed in flames and sinking into the sea was...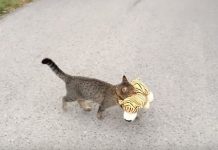 Watch as this cat goes to the neighbors to borrow a tiger plus toy. The cat walks with such confidence after claiming its prize...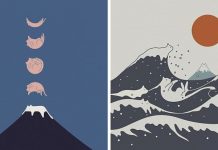 Lim Heng Swee is a self-taught illustrator from Kuala Lumpur, Malaysia and he's obsessed with...you guessed it, cats! The style here is very modern with...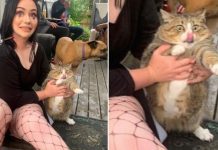 The Unflattering Cat Photo Challenge on Twitter calls on cat owners to share their weirdest and most unphotogenic photos of their cats. Since hoomans...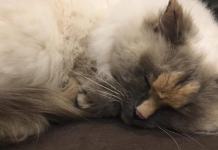 It's not all that rare for animals to have weird markings on their fur and this cat, Daisy, who lives in a shelter in...