Robin Seplut is a wonderful man that spends countless hours helping out stray kitties. Even when he comes across cats that are not used...
Watch as this tiny kitten meets a little baby chick and there's a bond immediately. The kitten starts kissing the little chick and once...
Rahni the Ragdoll cat just can't help herself as she tumbles down the stairs! She turns it into a bundle of fun by tumbling, rolling,...
Little Raven, a Tamaskan husky pup, needed a friend to grow up with so her human mom Christina knew that she can't just pick a best friend for someone. Instead, she took Raven to a shelter in Lubbock, Texas and let her pick one for herself!
Meet Brutus. He is the feline store manager of Morrison's supermarket in Saltney, England. He mostly spends his time in the pet food aisle. He assists clients in picking the right food for their pets. Should customers need more help, Brutus jumps into their carts and makes rounds with them. He takes his breaks in the baby seat of one of the shopping cats, and prefers to do so, when the sun is shining right on it. Warm and cozy is best!
Cats have some great instincts of being like little Sherlock Holmes, especially when they see an intruder because always they investigate. These five kittens...
We all know that cats love their sleep, but what cats don't realize is that we hoomans also love our sleep. Or since they...
Cats, man. They are quite the weirdos who do the strangest of things. Such as putting effort into opening a door when there is a...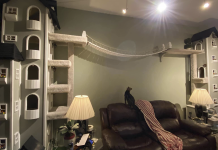 Cats are naturally very good climbers so it's no surprise they like perching on high places. Whether it's a shelf, a kitchen cabinet or...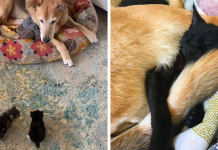 We all know how dogs and cats don't get along so well. But, know this, as long as the world exists, it'll keep surprising...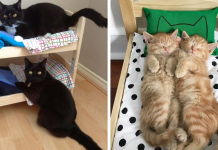 People are always finding new ways to spoil their cats and this one is brilliant! Clever folks are re-purposing a simple yet popular doll...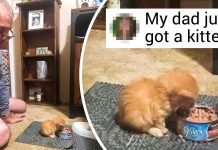 If a guy says "no" to a cat in the house, this is not negotiable. At least, this is what these guys thought until...they...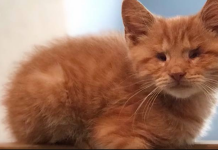 This tiny blind kitten was about to be put down at the shelter when a cat loving family rushed in and gave her a...