You know how they say, "these boots were made for walking", well, cats were made for sitting. They love to place their bums down...
A man who lost his son, has saved over 300 homeless cats, determined to give them a good life, in honor of his late...
An cute white and ginger kitty is enjoying an afternoon catnap when his human arrives and plants a kiss on his forehead. The kitty...
The artist is a very special 5-year old British girl who is diagnosed with autism. And, her muse for her artwork is none other...
If you're one of those people that likes to spend money on the latest and greatest for your cat, you may want to reconsider.   Although, cats may seem to like the finer things in life, they're pretty easy to satisfy. In the end, as long they're comfortable, they are happy. So, save your money, and instead use your creativity. Your cat will thank you for it. Because, for the most part, this is what happens when cats have to make a decision between fancy, and casual....
Siamese cats are very fun loving and adventurous kitties but they also have a reputation for being very noisy. These two Siamese cats take things...
Lilies are one of the most dangerous flowers on earth for our cats. What's truly scary is that one little nibble or lick has...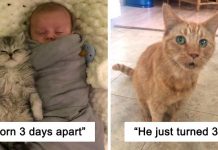 If there's one thing that can save us during a time of crisis, chaos and misery...it should be cats! Did you know there are...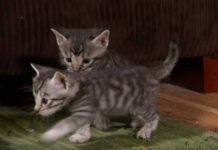 Nothing brightens up a day like a bunch of kittens! If you are looking for a pick me up and something adorable, look no...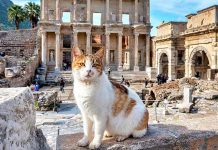 With a rich history, beautiful architecture and delicious food, Istanbul, Turkey is one of the most famous cities in the world. This beautiful Turkish...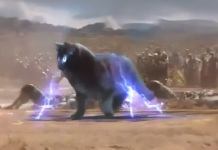 Cats have a variety of talents. They are excellent hunters, great at human manipulation for treats, and some cats are even amazing actors. Well...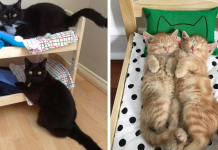 Some clever people have found an amazing way to spoil their cats. Folks are re-purposing a popular doll bed from IKEA and turning it...