We love all adorable cats but only the best and funniest gain legendary status and become memes. Zuu is one of those cats. He is full of chalked full of meme potential. He's so round that he looks like a ball of floof. He's got this grumpy yet lovable face. His fur has markings that make it seem like his mouth is constantly open and he's either forever tired or surprised. How can you not love this cat?
If you thought one funny cat was enough, it turns out that the cudly Zuu lives with another cat – Bocco. The two felines are sure to make you smile and give you a laugh. They both look so chonky and disappointed with life that it's nearly impawsible not to smile.
More info: Instagram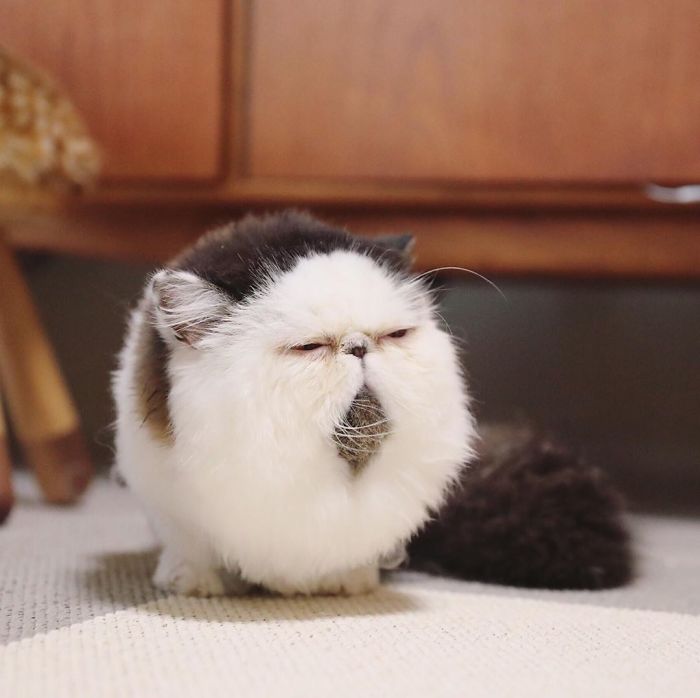 Image credits: pechanko_bocco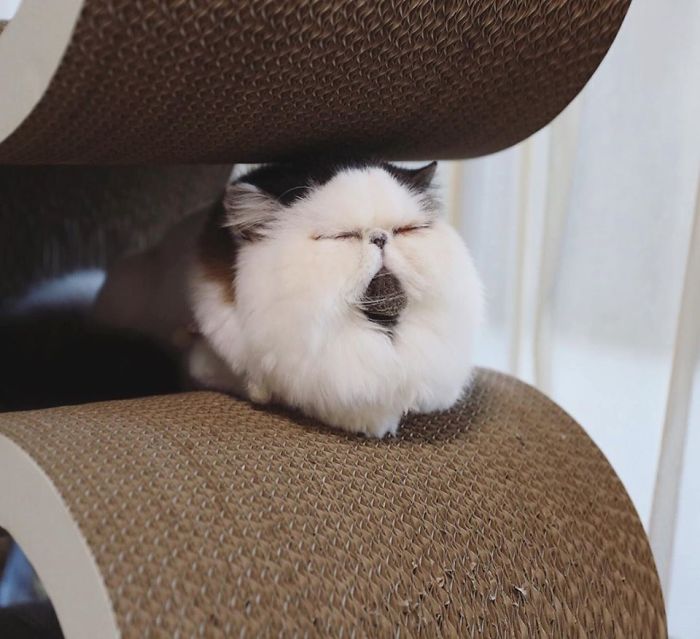 Image credits: pechanko_bocco
Bocco and Zuu's owner Chika, who goes by the handle pechanko_bocco, updates regularly on Instagram, with a post count of 1,930 and counting. Over 97,000 people follow the two felines' antics. Bocco is an Exotic Shorthair cat born on June 26, 2016. While Zuu is an Exotic Longhair who's a bit younger – he was born on August 21, 2017. Both of the exotic cats are male.
Zuu and Bocco'ss owner Chika has said "two cats sleep all day long while I'm at work – I assume that they sleep around 20 hours a day."
"Bocco is a shy boy and not used to strangers, but he loves getting a massage from me and stalks me around everywhere in the house. He also used to be good friends with the hedgehogs that I used to have. Zuu is more open to others and not afraid of dogs that he meets in the park."

Chika also revealed: "I used to upload pictures of my hedgehogs on Instagram, so it was kind of a natural thing to do for my cats as well. I'm really surprised that we are getting so many followers recently. I am very happy when I see positive comments that say the pictures made them smile, for that is also how I feel looking at them."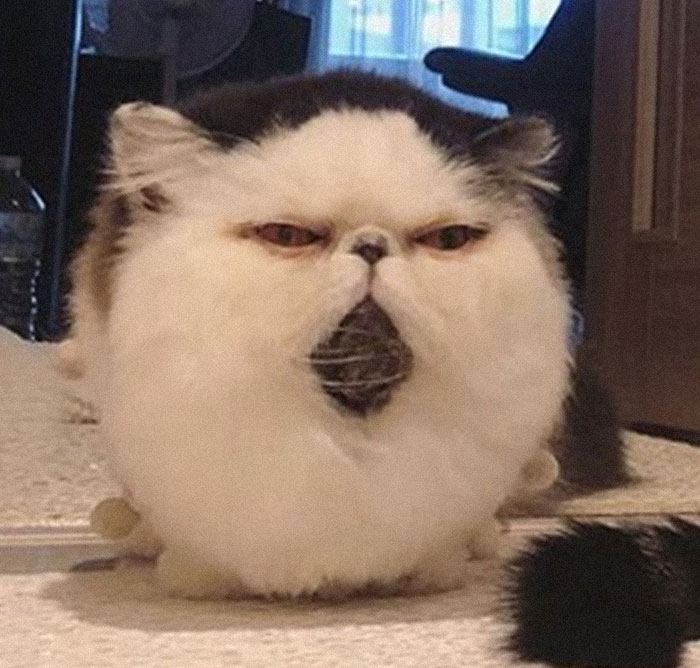 Image credits: pechanko_bocco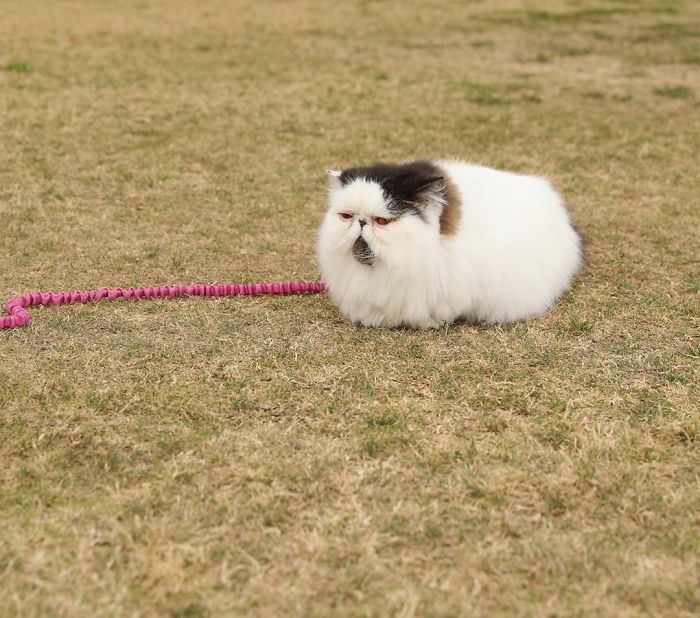 Image credits: pechanko_bocco
"Since the famous cats have a flat face, I need to wipe their tear stains off every day. Their tears are brown, typical with their breed," Chika explained about caring for Zuu and Bocco. "Also, they are super lazy and won't eat by themselves. I need to bring the food pellet to their mouths. I do leave some food so that they can eat when I am late coming back home from work, but they just keep waiting for me to come back home and feed them with my own hands. They eat human-grade and grain-free cat food. They also take some supplements."
"Zuu doesn't have good athletic skills so he's not good at heights nor jumping. He still hasn't been able to reach the top of the cat tower," joked Chika.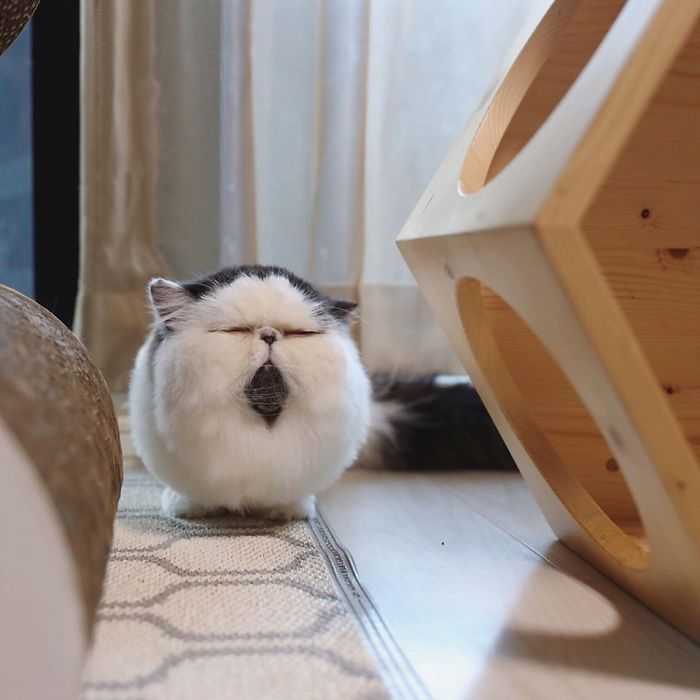 Image credits: pechanko_bocco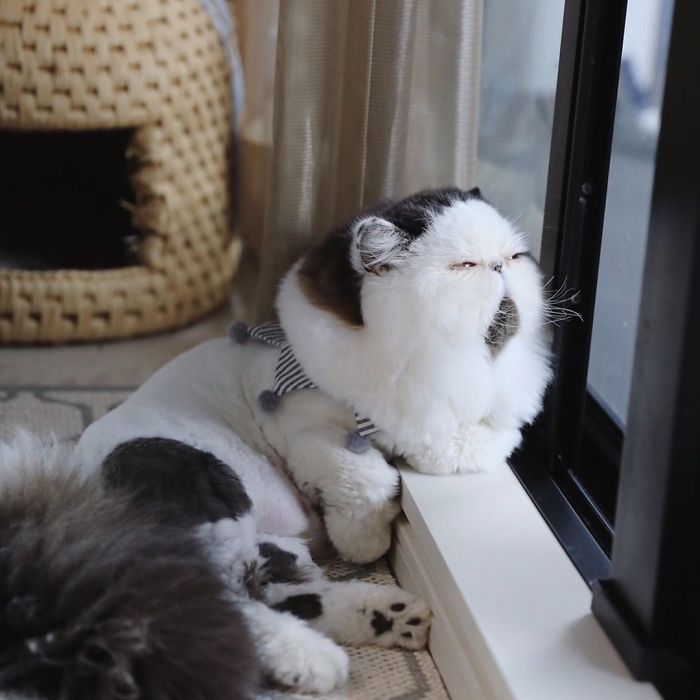 Image credits: pechanko_bocco
Some of you might have already fallen in love with the cat meme-worthy Bocco and Zuu (we know we have). But it might be the first you hear about Exotic Shorthair and Longhair breeds. Fear not! Here's some basic information you need to know to get started.

Exotic Shorthairs first came into existence in 1967, after crossing Persians with British Shorthairs. The Trupanion cat guide writes that the new breed inherited traits from its forefathers, including the easy-going attitude of the Persian, and gained the easier coat maintenance and higher energy levels of their shorthaired cousins. Exotic Shorthairs are great pets for families with kids because they're very playful, but also don't demand constant attention.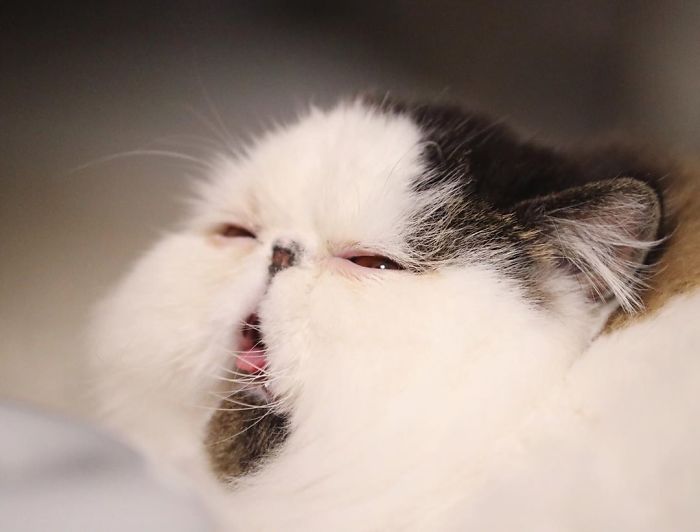 Image credits: pechanko_bocco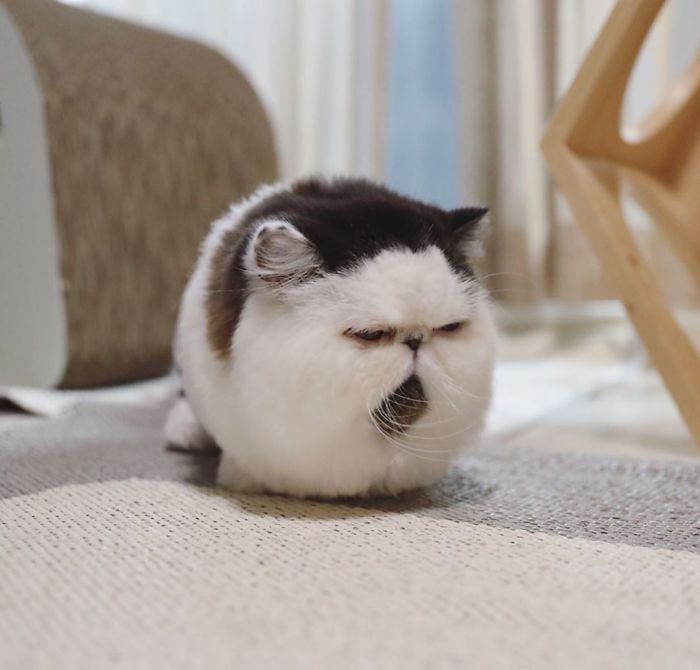 Image credits: pechanko_bocco
Exotic Longhairs love playing with toys and having cuddle-time with their hoomans, but they require a bit more extra care. So you have to comb a longhair's coat every single day.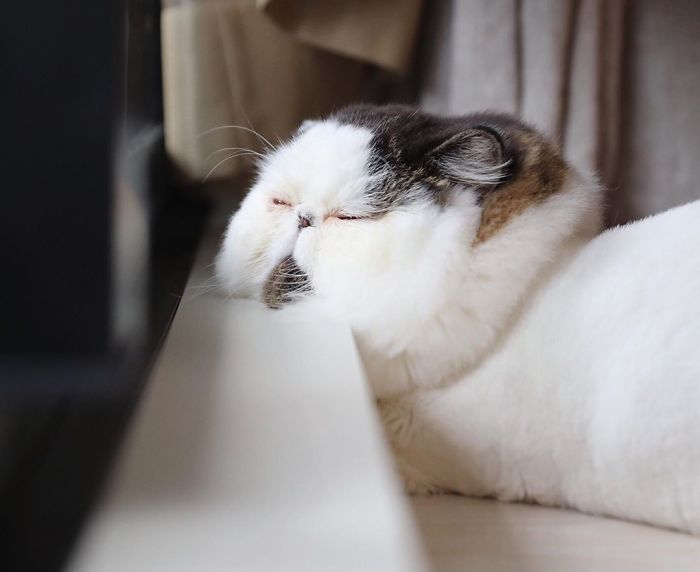 Image credits: pechanko_bocco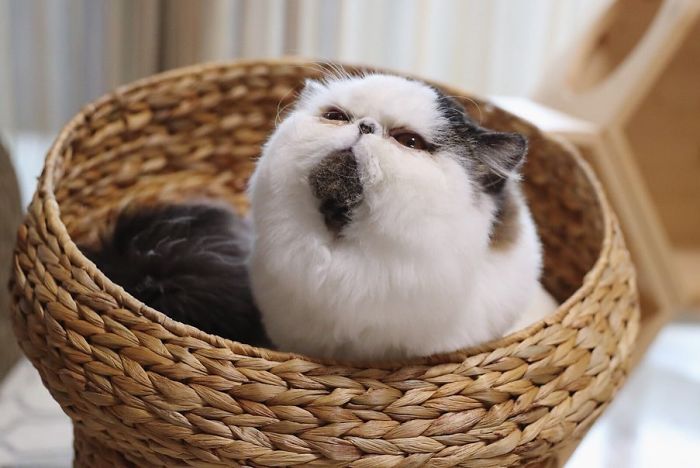 Image credits: pechanko_bocco

Before you go out to get one of these beauties couple of things to keep in mind. Exotic Shorthairs are prone to gaining a lot of weight, so it's very important you don't overfeed them, the Puss in Boots sad kitty look is to be ignored. Otherwise, your chonker will turn into a mega chonk. Furthermore, these cats are very attached to people, and they start getting anxious if they're all alone for too long. But would you be able to leave a cat like this alone?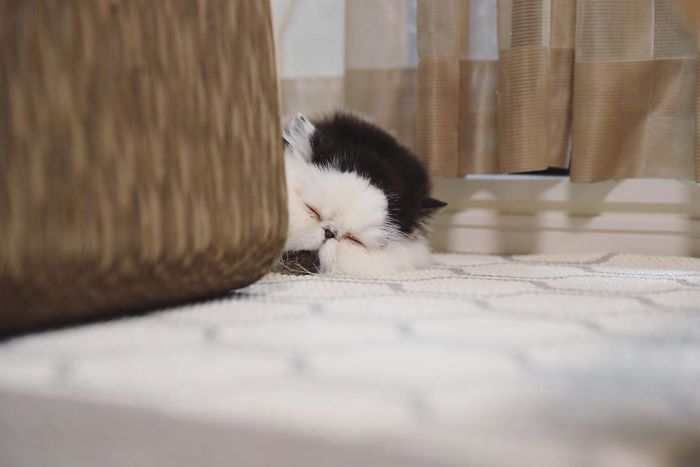 Image credits: pechanko_bocco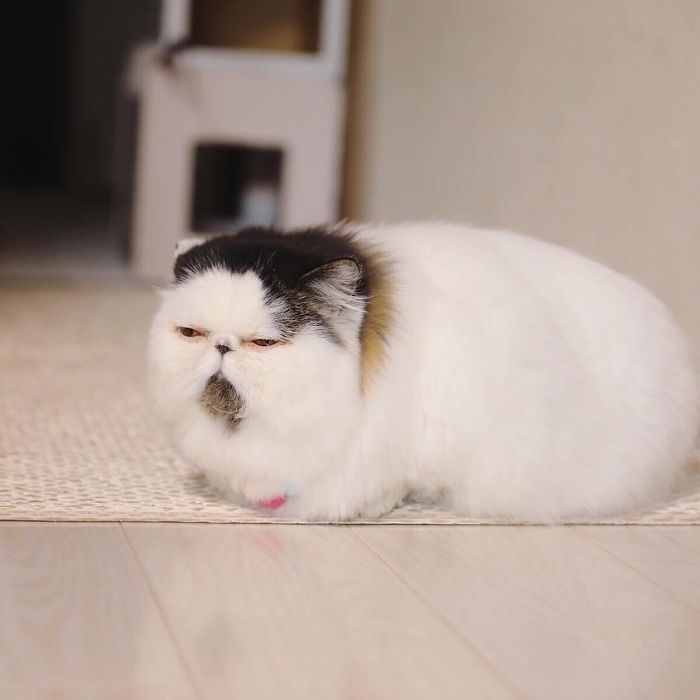 Image credits: pechanko_bocco
There's also more and more evidence that Exotic Shorthairs and other similar breeds have some problems breathing, because they have a flat face. Claire Bessant of International Cat Care expressed her opinion: "It is very depressing to see the life which has been deliberately dealt to some breeds of cats because of a human desire to develop a certain look." However, this doesn't mean that all Exotic Shorthairs are constantly suffering or that they are all unhealthy: with proper care and lots of love, and attention, these cats can live long lives up to around 16 years. However, if you're on the fence about getting an Exotic Shorthair, consider picking one up at an animal shelter and giving it a forever home, instead of buying one from a breeder.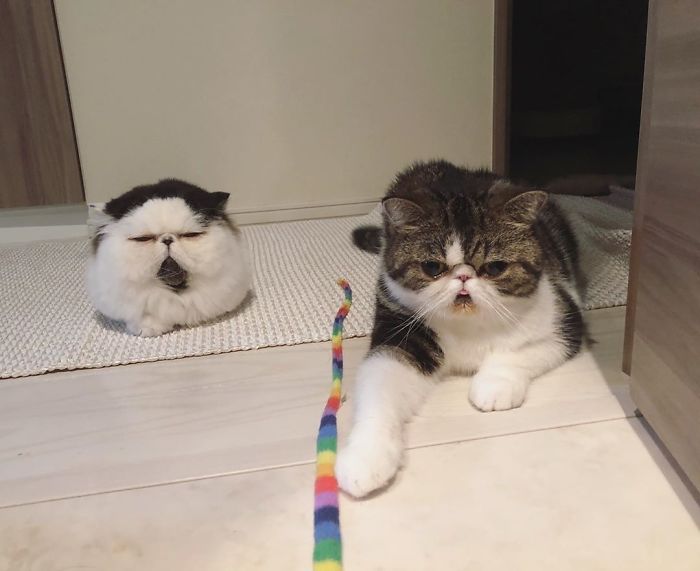 Image credits: pechanko_bocco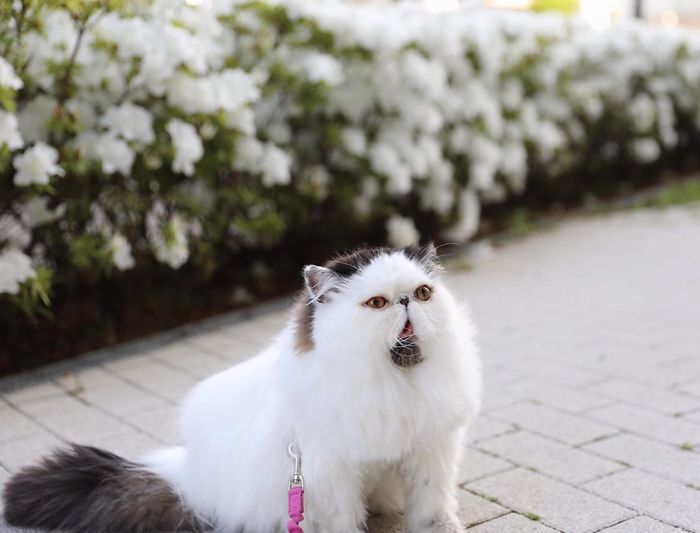 Image credits: pechanko_bocco
While we all have favorite cat memes, there's always room to make some new favorites. What do you think of Bocco and Zuu? Which one would you rather bring home with you? Have you ever kept Exotic Shorthair or Longhair cats? Let us know in the comments below!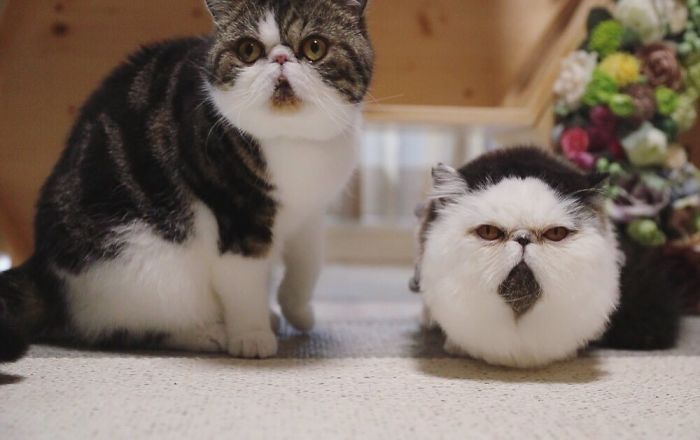 Image credits: pechanko_bocco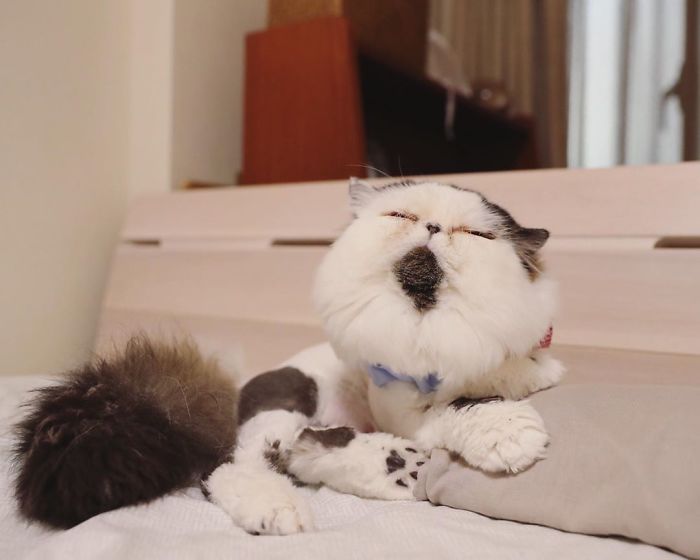 Image credits: pechanko_bocco
Image credits: pechanko_bocco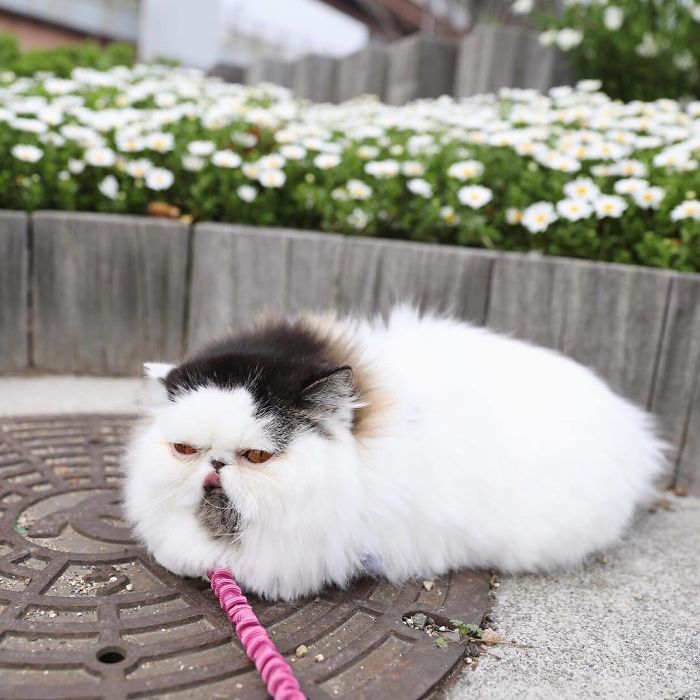 Image credits: pechanko_bocco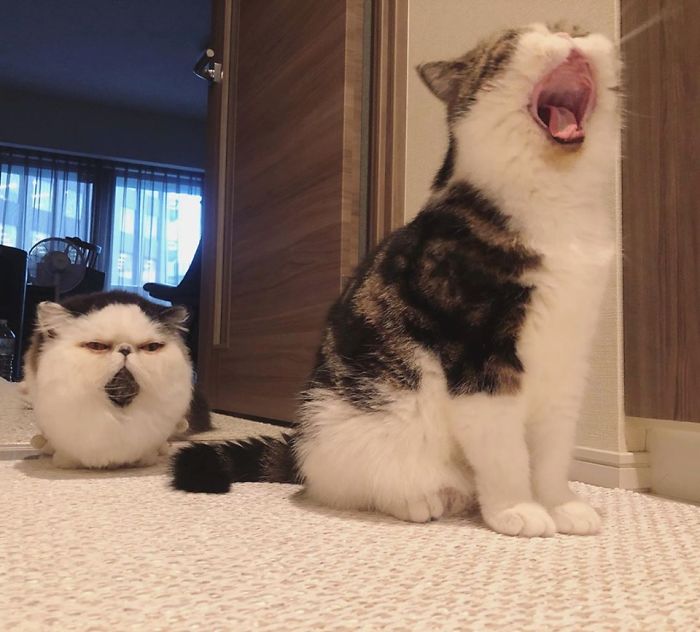 Image credits: pechanko_bocco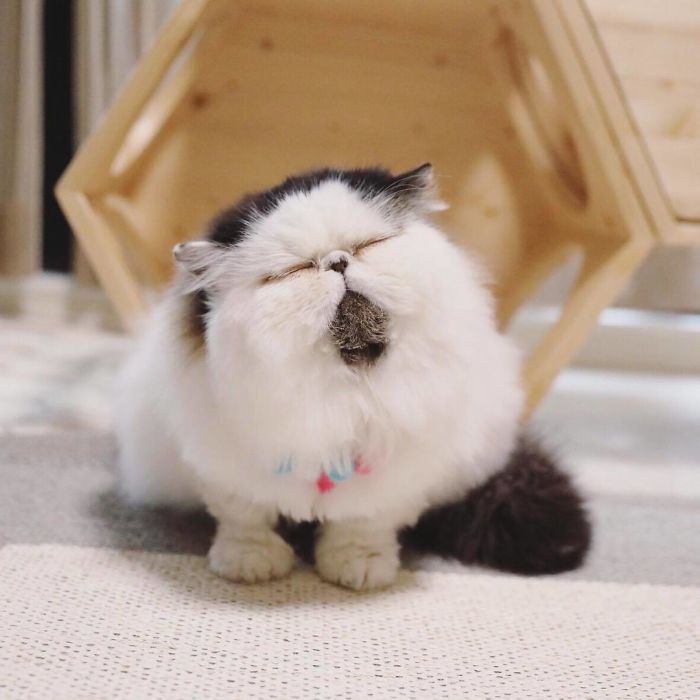 Image credits: pechanko_bocco
People on the internet had this to say about Zuu