This is an amazing tale of bravery and four kittens lost at sea. A boat engulfed in flames and sinking into the sea was almost a cat-astrophe! The boat had capsized in the middle of deep waters near the island of Koh Adang, and eight distressed crew members had signaled for help. Rescue efforts were quick; however, the Royal Thai Navy had to investigate the capsized boat for any possibilities of oil spilling into the ocean…that's when they discovered four distressed cats.
More info: Facebook | Instagram | navy.mi.th
When Navy Officers re-checking for spilled oil from a capsized boat, they spotted 4 cats huddled together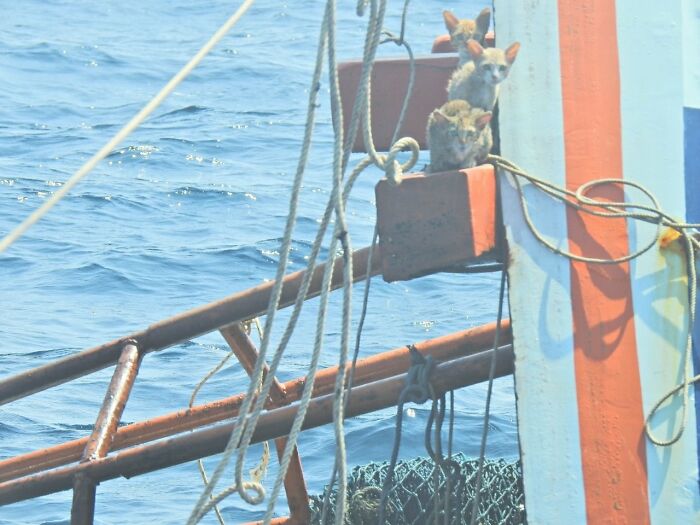 Image credits: RoyalThaiNavyFanpage
While investigating the wreckage, First-Class Petty Officer Wichit Pukdeelon used his camera to inspect the boat from afar. This is when he noticed four cats hanging on for dear life on a crane-like structure.
Thatsaphon Saii, 23, immediately put on his life jacket, and swam 50 feet in an effort to save the cats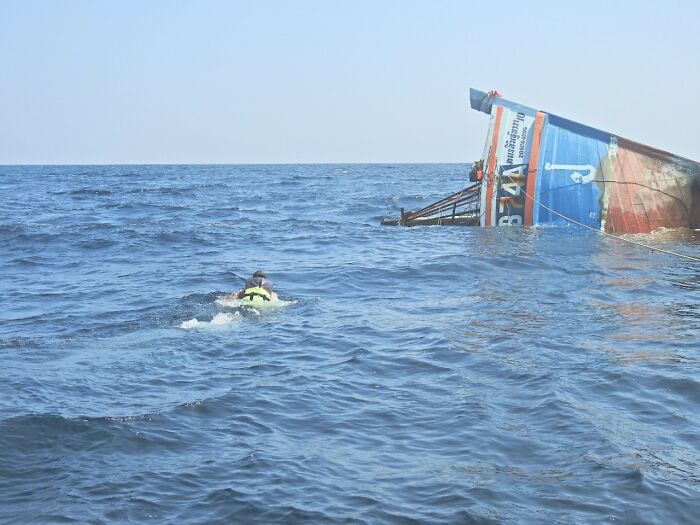 Image credits: RoyalThaiNavyFanpage
One of the petty officers, Thatsaphon Saii, 23, realized the direness of the situation and immediately sprung to action. He had to act quickly as the fires were starting to spread, and there wasn't that much time left before the whole boat would be lost at sea. He would rescue the cats one by one on his shoulders swimming back and forth between the two boats.

Time was of the essence, as the fires were starting to spread across the boat